This is Cleo and her favourite person in the whole wide world, Sharon.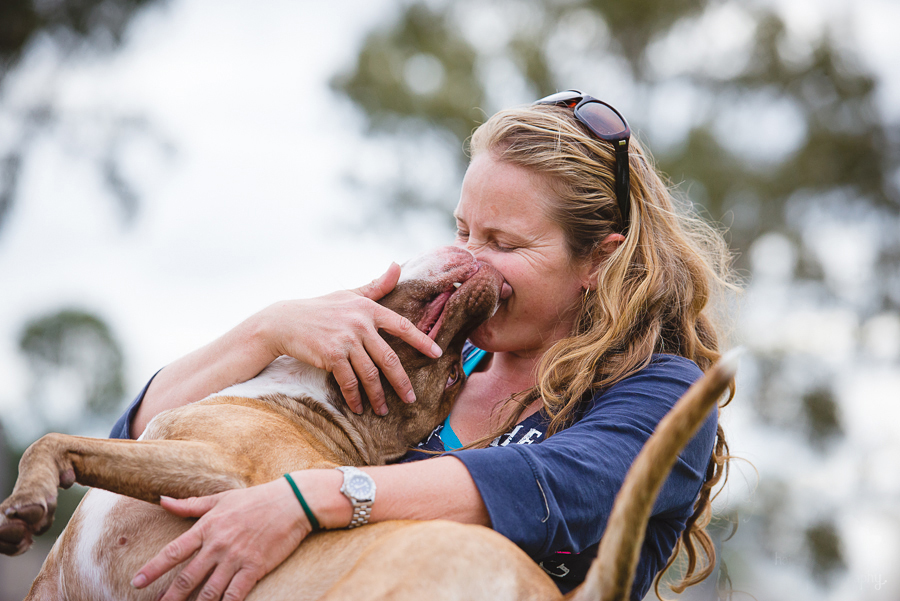 Unfortunately  Sharon isn't Cleo's "mum" (though there is no question that she loves her as if she was).  Sharon is the wonderful woman who owns and runs Freedom Kennels, where Cleo has been patiently waiting for her forever family since late last year.
In Sharon's words:   "Cleo is my baby girl there's no doubt about it. If she was a city she'd be Melbourne, all attitudes and temperaments in the one day but none of them bad. She'll entertain you with her crazy running around with a big smile on her face and she'll sense when you're down and snuggle up on your lap gently nuzzling your neck. Apart from playing with soft fluffy toys Cleo spends lots of time upside down wanting her belly rubbed, before playing with the energy of a pack of ten dogs again. She exudes happiness and is such a delight to be with"
I meet a lot of awesome dogs photographing for rescue groups, but every now and then there's one that just steals my heart.  Cleo was one of them.  I could have happily rolled around on the grass with her all day.
This girl is just so much fun.  Sharon isn't exaggerating when she says Cleo plays with the energy of 10 dogs.  Watching her tear around the yard (with us laughing and ducking with our arms over our heads as she leaped over us in full flight) was like witnessing sheer joy in action.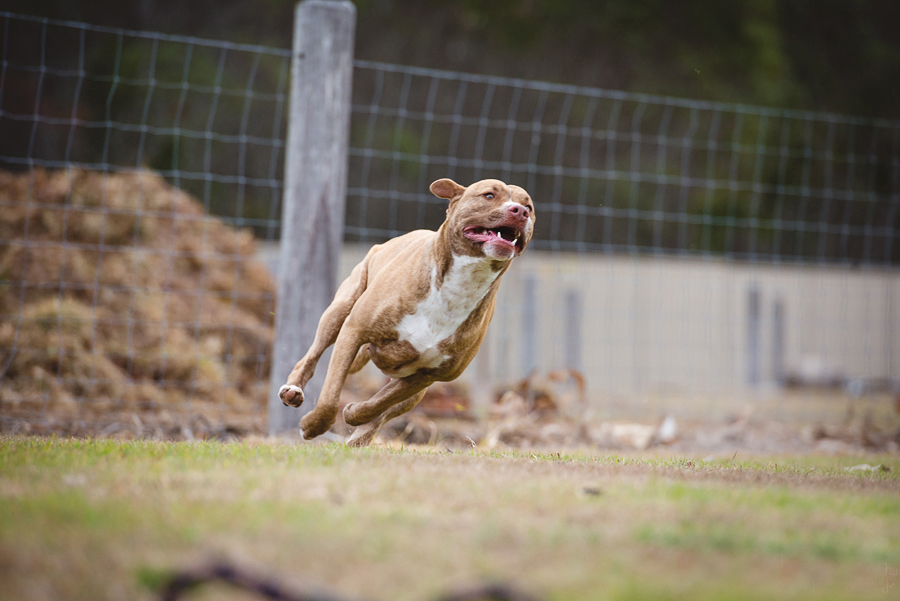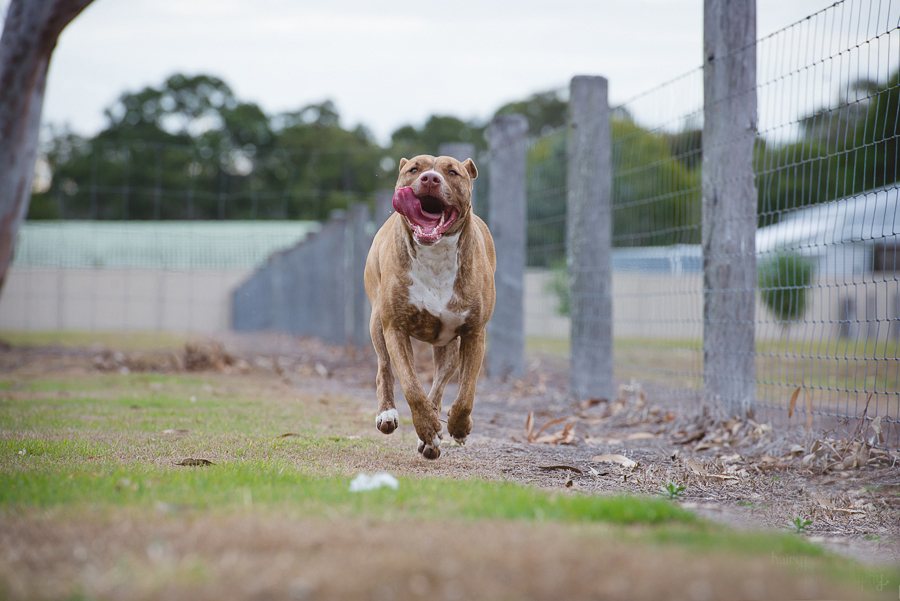 Even an already torn up teddy bear becomes the BEST. TOY. EVER when seen through Cleo's eyes.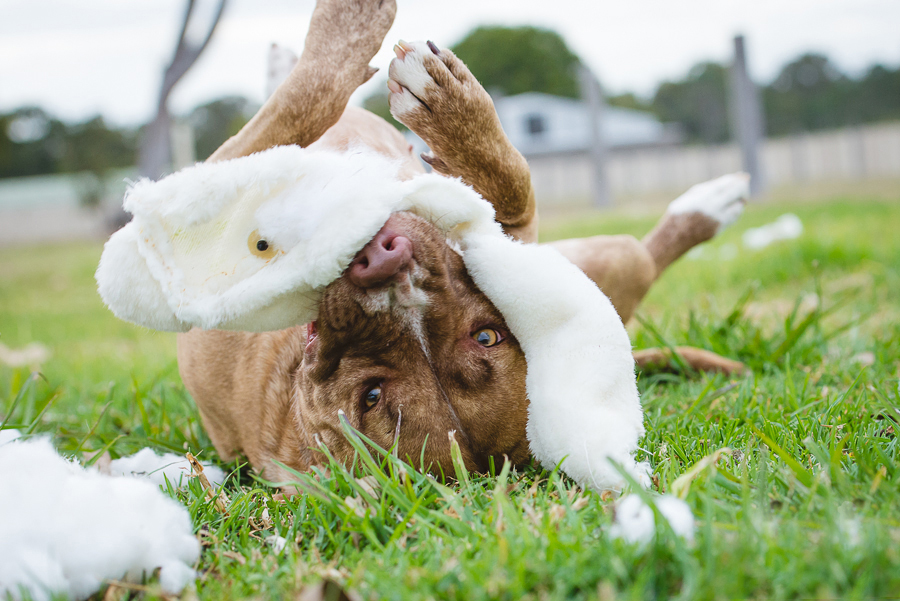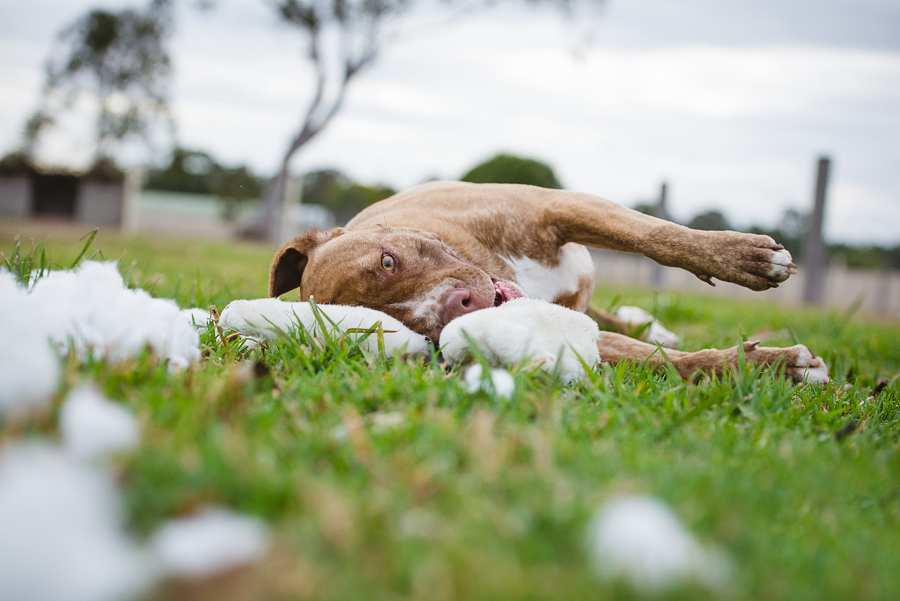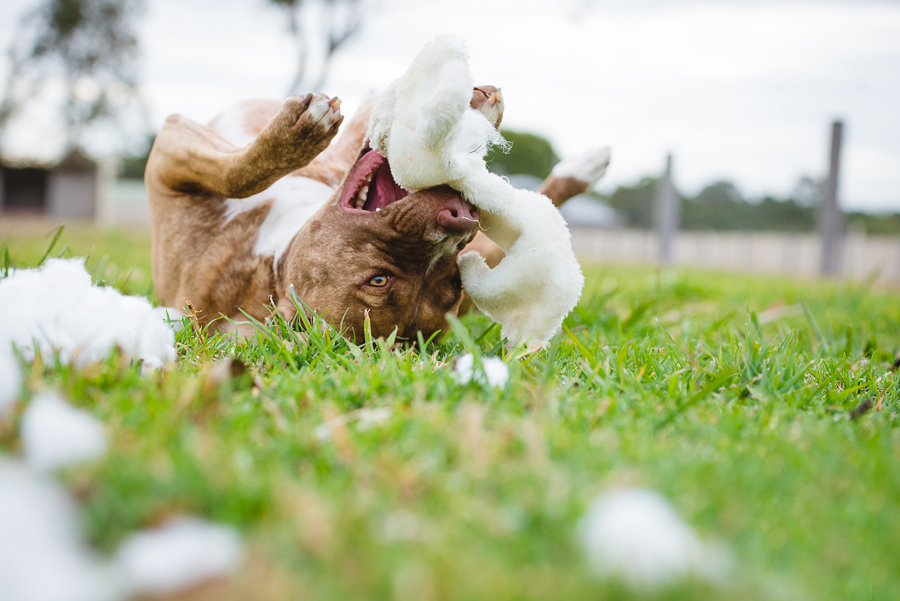 One thing's for sure…the person who is lucky enough to adopt Cleo is going to need to be up for a lot of LOVING!  All this playing and fun creates a BIG thirst for lots of cuddle breaks.  Between butt scratches and belly rubs, Cleo is up for pretty much any kind of affection on offer.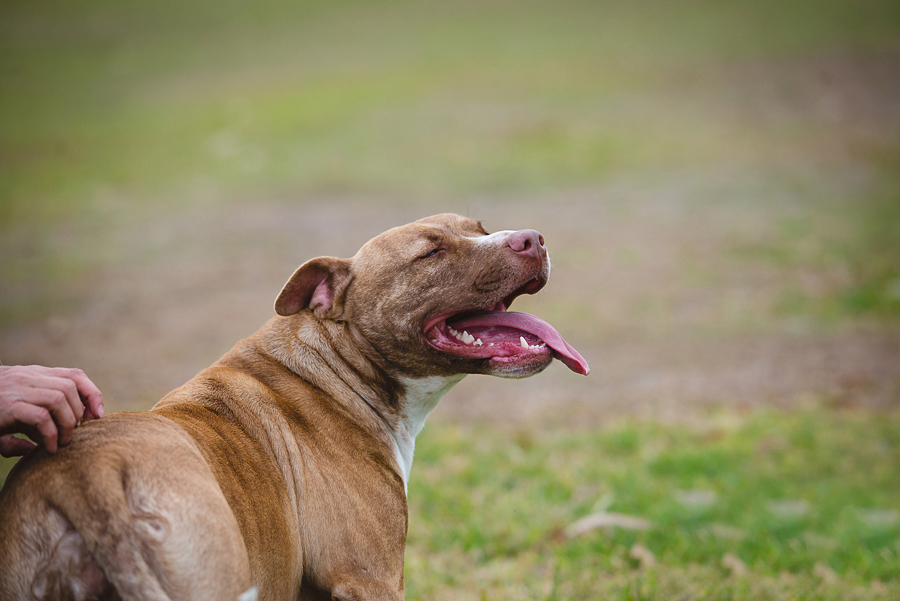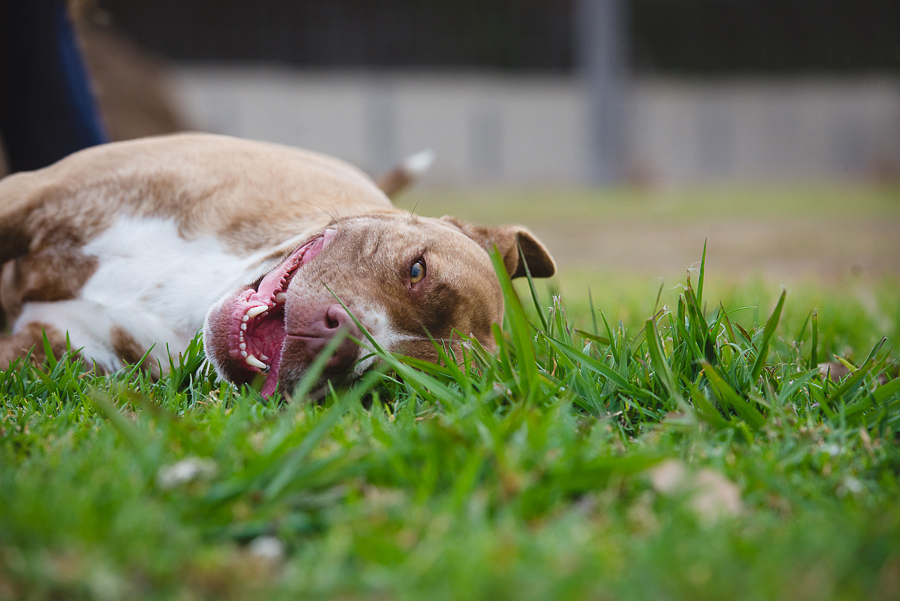 As awesome and fun as she is, Cleo isn't a fan of sharing her people with other animals so she needs to be an only pet.  This obviously means she's not the kind of girl that will enjoy dog parks or crowded off leash beaches.  That doesn't mean the perfect family isn't out there for Cleo.  It just means it's a little bit harder to find as she won't be the dog for every lifestyle and she's probably not going to be comfortable attending adoption days and events to help her get noticed.
The best way we can help this gorgeous girl find her new family is for as many people as possible to know she's looking for them!
If you'd like to know more about Cleo or would like to arrange a time to meet her click here to see her full profile or get in touch with the team at Animals In Need.
Good luck to the person who convinces Sharon they're good enough for her baby girl!!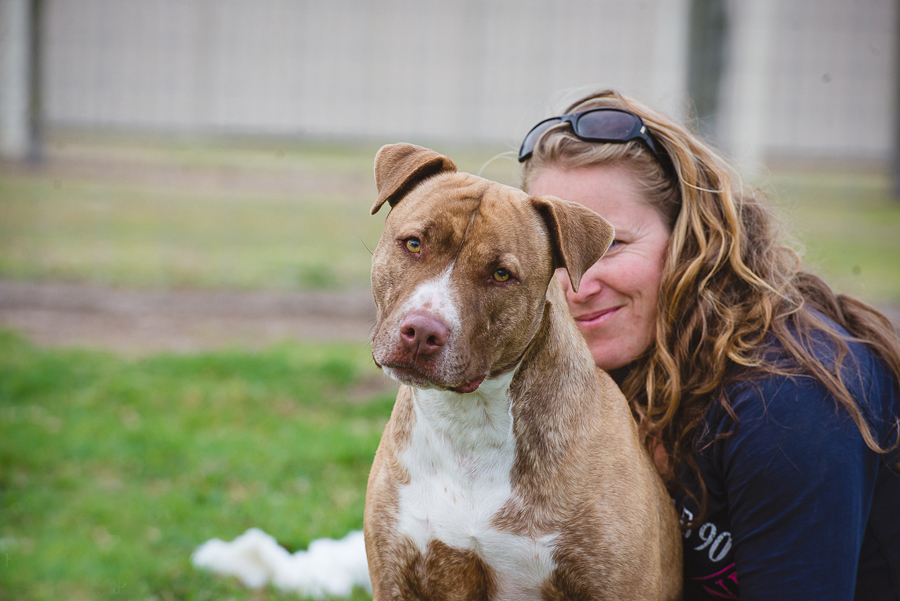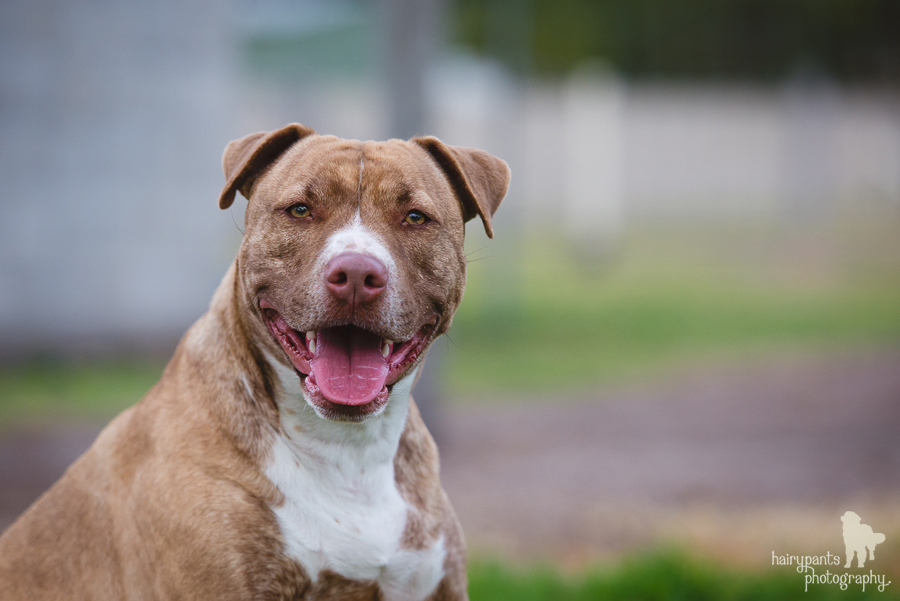 Please keep sharing this big beautiful smiley face … you just never know who might see Cleo and fall instantly in love x