Anyone who knows me personally or spends time on the Hairypants facebook page knows I'm passionate about helping animals in need wherever I can.  I'm not a hardcore "adopting a rescue animal is the only way to go" person,  I think there's a big place for maintaining the diversity of the domestic pet breeds through responsible breeding of the pure breed lines.  I mean, how sad would it be to get to a point where you never had the joy of playing with a bouncy Labrador at the park, or laughing at the jowl flying antics of a Boxer running at full speed?
What I do think though, is that we need to do everything we can to stamp out the irresponsible breeding of pets for profit.  Backyard breeders and puppy farmers (and the people who support them by buying puppies online or through pet shops) are the main reason so many animals are euthanised each day at shelters all over the country, and they need to be stopped.  Until this happens and until people realize that a dog or cat is for life, not just while they're convenient, we need to do whatever we can to help those pets that fall through the cracks and end up being dumped at shelters and pounds, or worse, rescued from abusive situations.
I often get overwhelmed by it all, it seems there is a neverending stream of animals needing to be rehabilitated and rehomed after being let down by the people whose job it was to keep them safe.
Serena from Pretty Fluffy has come up with a great way to encourage people to do whatever they can to make a difference through The 13 Project.  The idea is to commit to 13 (or whatever number you can realistically manage) things you can do before 2013 to make a difference.  I'd love for you to get involved in whatever way you can.  Maybe it's creating your own list, or maybe it's just that you can help with one of the things on mine.
My 13 things are listed below.  If the sheer number of other things on your "to-do" list means you can't get involved right now,  maybe just share this post to educate and inspire someone else to act.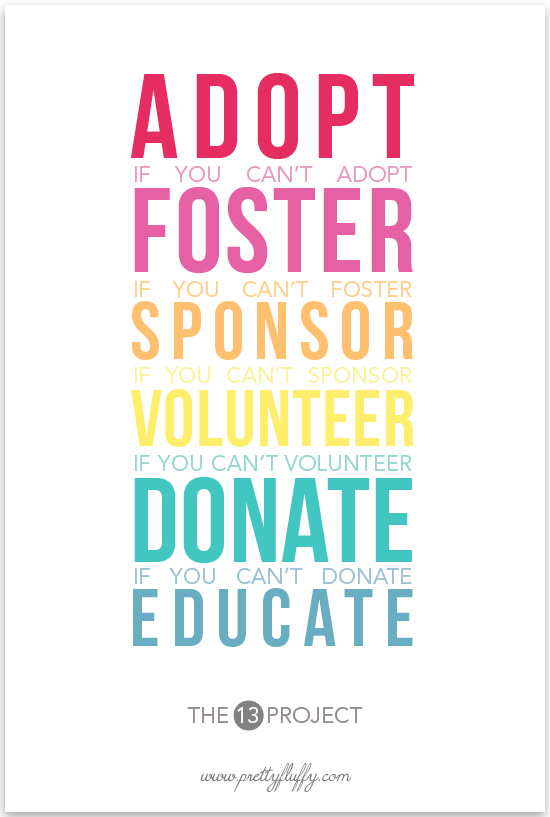 My 13 Things before 2013:
Photograph at least 13 rescue dogs looking for their forever homes to help make them look as "adoptable" as possible.
Buy anything I need for Henry through the RSPCA "World for Pets" store.
Collect blankets and bedding from friends to donate to rescue shelters/groups
Buy the Arctic Breed Rescue 2013 Calendar
Put the Oscar's Law "don't buy puppies from pet shops" sticker on my car (and give out the other ten I bought to my friends!)
Share & promote dogs and cats looking for their forever homes on my facebook pages and website
Have a special photo shoot with a dog who's been waiting too long for his/her forever home, then promote it far and wide to help them find their new family
Donate the "gently used" toys Henry no longer plays with to a rescue group or shelter (UPDATE:  will be holding onto these for a while so my new FOSTER PUP has something to play with !!)
Educate friends and facebook followers on the facts about puppy farms and the need to desex their pets
Write a blog post about a rescue group or organization doing great things to help animals in need
Write an easy "how to take better pictures of your pets" guide to help foster carers create better adoption profile pictures of their charges.
Research and educate people on where to find responsible breeders of pure breed dogs
Share the 13 Project to inspire other people to do whatever they can to make a difference
If you'd like to know more about The 13 Project or get some inspiration from other peoples "13" lists, check out Pretty Fluffy's post about The 13 Project 
here
.